From January to March 2021, 29,140 individual insolvencies were registered, of which the majority were the subject of Individual Voluntary Arrangements (IVAs) or Debt Relief Orders (DROs). However, 2,643 were individuals who entered bankruptcy.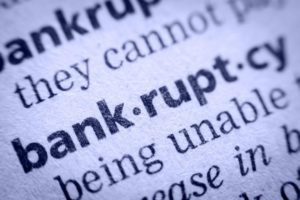 The good news is that these staggering figures are 5% down on the previous quarter (October-December 2020). But being in debt to the point of being classified as insolvent is not a place anyone wants to be; sometimes, though, it's unavoidable. However, understanding more about personal insolvency in England and its consequences will help you better deal with the situation.
The impact of personal insolvency in England
If you are in the position of personal insolvency in England, i.e. you have debts in excess of £5,000 and you are unable to come to voluntary arrangements with your creditors, filing for bankruptcy can actually be of help.
However, the first step is to acknowledge you are not able to pay your debts. Once you've taken this step, filing for bankruptcy is usually the next stage. In England, individuals that are personally insolvent are able to apply for bankruptcy online without having to go through an insolvency practitioner (IP) and spending even more money that you can't pay back. That said, there is a fee to pay to file for bankruptcy, which is currently set at £680.
Bankruptcy is a legal procedure and there are certain steps to follow, as directed by the Insolvency Act 1986. In addition, when you apply for bankruptcy through the court, your name and other details, including that of your debts and creditors, is published on the Individual Insolvency Register, i.e. your financial circumstances become public knowledge.
When you apply for bankruptcy, you will have to include details of your debts, your creditors as well as a list of all your assets and their value, particularly if they are high value. The court may decide that you will need to sell some or all of your high value assets in order to raise funds to pay your creditors, or, at least, some of them. If you choose to go through an IP, they will handle this on your behalf.
In most cases, there are insufficient assets of a high enough value to raise the necessary funds. Therefore, either through the court or an IP, the debtor arranges to make a monthly payment to clear any remaining debts. This payment is made to the court or the IP who subsequently distribute the monies to creditors according to an agreed amount.
There are advantages and disadvantages to declaring bankruptcy. It's not the right solution for everyone so, being aware of what's involved and the impact it will have on an individual is important.
Advantages of declaring bankruptcy

Understanding the advantages of bankruptcy will help you make a more informed decision.
Provides relief from the stress and uncertainty that comes with having to deal with your creditors on your own
An appointed administrator, or IP, will handle all communication and negotiation with your creditors, as well as deal with all payments. Even if you have applied for bankruptcy yourself, the court will still appoint an IP as only they are licensed to handle insolvency cases.
Creditors are in a position of having to accept less than they perhaps wanted in terms of the monthly payment, and may well have to accept that at the end of the bankruptcy period (usually one year), any remaining debt will be written off and they receive less of the total debt owed
Once the payment details have been agreed with your creditors, through your IP, they are not allowed to change their minds
Once you have been discharged from the bankruptcy order, remaining debts are written off and creditors are not allowed to revisit the debt, i.e. they cannot chase you for any monies you may still owe them. Bear in mind that there are certain debts you will still be liable for that aren't covered by the bankruptcy order, including court fines and fees, mortgage payments on your home, child support/maintenance payments, student loans via the Student Loans Company and social fund loans.
Disadvantages of declaring bankruptcy

Where there are advantages, there are disadvantages with bankruptcy.
You will be required to sell any assets of value, particularly if they are of high value, to pay creditors
If there is equity in your home, you may be required to sell and move house
If you own a business that is solvent, you may be required to sell your business and any staff will be made redundant
If you live in a rented home and are in arrears with your rental payments you may be forced to leave your home. Bear in mind that some landlords will not rent their property to anyone that's been declared bankrupt and you could be at the mercy of friends, family or your local council.
If applying for credit in excess of £500, you must declare your bankruptcy status, thereby proving difficult to raise credit
Your financial history will be investigated in detail and if there is any wrong doing, you could face legal//criminal charges
You will not be allowed to take on a position as a company director or trade under any other name, except your own
The details of your bankruptcy will be on public record and detailed on the Individual Insolvency Register
You are not allowed to hold employment in certain public office positions and certain professions including solicitor, accountant or trustee
Even after discharge from the bankruptcy order, you may be in the position whereby your assets are still under the control of a trustee or the official receiver (administrator/IP)
Some debts are not covered under the bankruptcy order and you will still be liable for them once discharged including secured creditor debts and debts through fraudulent activity
Secured creditors are not affected by a bankruptcy order. Therefore, if any debts are in joint names, the party that has not declared bankruptcy will still be liable for the debt.
As you can see, the consequences of personal insolvency in England far outweigh the advantages. So, before you make any decision, think carefully and work with an IP to see if there are any other options available to you to help clear your debt.
If you or your business is struggling with debts or you are thinking of winding up a solvent company voluntarily or declaring bankruptcy, the first step is to seek professional advice. Our highly experienced professionals at Leading UK are on hand to help and advise on the process.